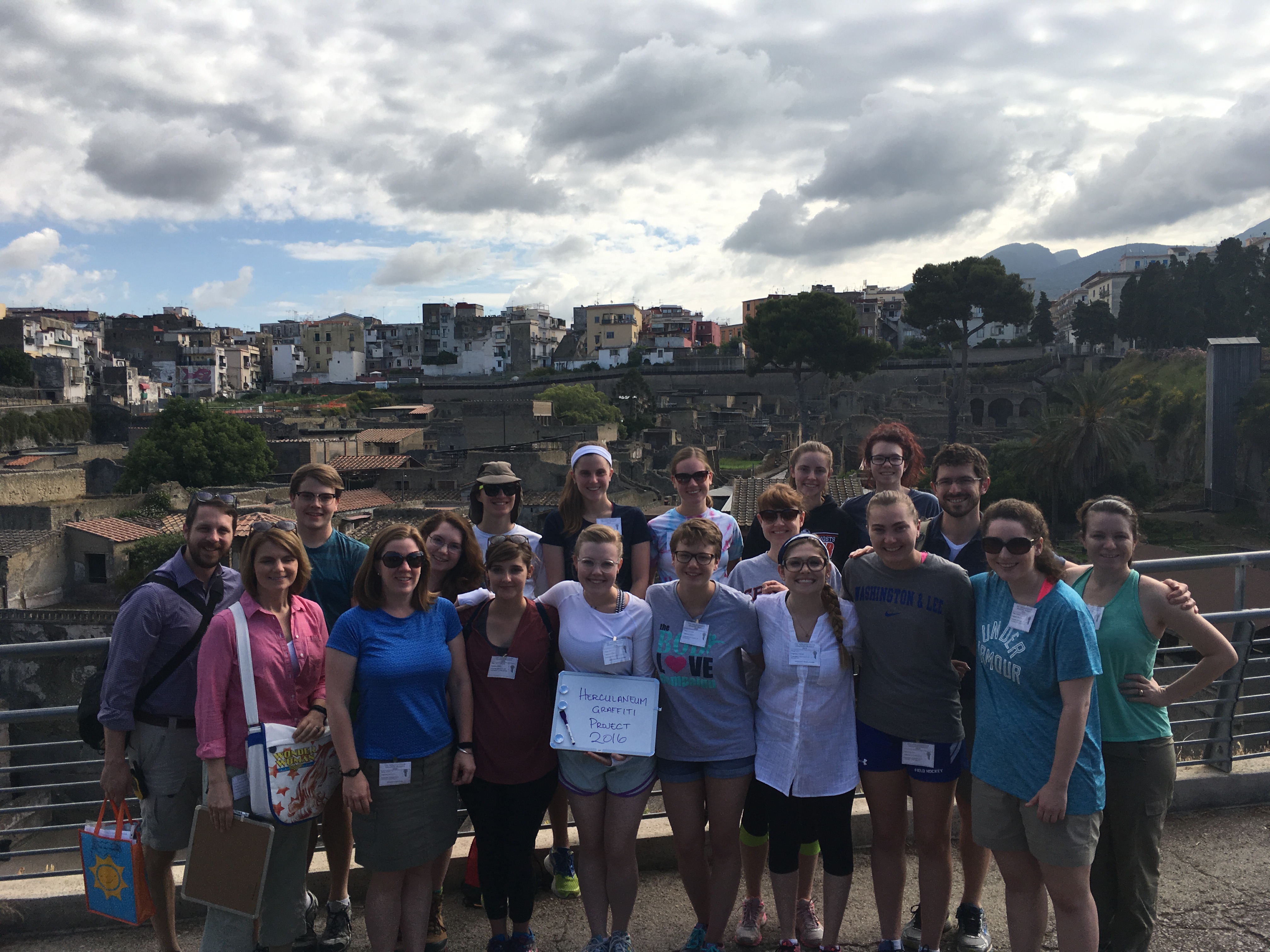 Pictured here: (front row) Holly Sypniewski, Rebecca Benefiel, Grace Gibson, Brittany Hardy, Hannah Maddy, Gia Nyhuis, Lilly MacDonald, Sarah Minnear; (back row) Matthew Loar, Jace King, Isabelle Dillard, Nathan Brewer, Mary Beth Smith, Kathryn Clikeman, Erika Zimmerman Damer, Arianna Jepsen, Katherine Handloser, Kyle Helms, Jackie DiBiasie Sammons.
2016 Field Season Team:
Director: Dr. Rebecca Benefiel
Field Director: Dr. Jacqueline DiBiasie-Sammons
Assistant Director: Dr. Holly Sypniewski
Team Leaders: Dr. Erika Zimmermann-Damer, Dr. Matthew Loar, Dr. Kyle Helms, Mary Beth Smith
Assistant Team Leaders: Jace King, Brittany Hardy, Gia Nyhuis, Kathryn Clikeman
The Herculaneum Graffiti Project held its second field season May 30-June 10, 2016, with the participation of faculty and students from universities belonging to the Associated Colleges of the South: Millsaps College, Sewanee: The University of the South, the University of Richmond, Washington and Lee University.
We expanded our 2014 field season by documenting graffiti in additional locations.   One area of focus was the ramp leading into the city of Herculaneum on which 24 graffiti were inscribed (11 are now extant).  Other houses documented for the first time included the House of the Mosaic Atrium (IV.1-2), House of the Bicentenary (V.15), House of the Two Atria (VI.29), Pistrinum et Terms (Ins.Or.II.2).
An additional facet of work this field season included documenting conservation changes since the 2014 field season.  Comparison of our photographs from the 2014 field season allows us to understand preservation changes in the past two years.  This research will be very useful for conservators of the site.
The project expanded its implementation of Reflectance Transformation Imaging (RTI) and computational photography in several locations.  iPads were used in order to provide access to the project database in the field.  The iPads also proved invaluable in photographing graffiti in narrow locations and drawing the graffiti using mobile apps.